How to get to the university?
A detailed description of how to get to the university can be found on the websites of the RUB: http://www.ruhr-uni-bochum.de/anreise/index_en.html

Free-of-charge parking-spaces can be found at RUB in the parking decks P4-P8, exit "Uni-Mitte".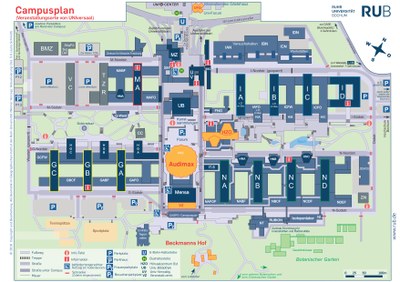 A printable version of the map can be found here.
Ticket for Public Transport
All participants will receive a ticket for public transport. Your name-tag in combination with the VRR conference ticket entitles you to free round trip with VRR means of transport (2nd class) in price level B, based on the tariff zone 36 Bochum from 26 February to 2 March 2018.
Information for guests at
Wald & Golfhotel Lottental
The footpath from the Wald- und Golfhotel Lottental to the Ruhr-Universität Bochum is currently closed. The guests that living there have to take bus line 375 to the university. Please note that this bus line runs only hourly. You can download the bus timetable here.
Arrival by Train
Please consider for your journey the offer of

Deutsche Bahn

.